Loyalty Scheme: How's it Works?
Shisha Vibe Loyalty Points and Loyalty Rewards are our way of giving something back to our loyal customer base. Consisely , you can earn Loyalty Points on every order you place from our loyalty scheme and every review you leave. You can then use these points to get money off on future orders through our redeemable coupon system.
To take advantage of our Online Loyalty Scheme rewards you will need to have created a customer account on our website before making a purchase, if you do not already have one you can register by clicking here and submitting the form with your details. One Loyalty Point = £0.10. This means that with our Loyalty Scheme you can save up to 10% on your Vaping Purchases! (Points have no redeemable cash value and can only be spent against future orders on our website.) Loyalty Points from purchases are added to your account automatically once your order has been shipped.
Please Note: 
Our Online Loyalty Scheme is different to our in-store Loyalty Stamp System and therefore they are not compatible with each-other.
How to Earn Loyalty Points
You will automatically earn Loyalty Rewards on every purchase you make. For every £1 you spend you will receive 10 Loyalty Points. This can be seen in the below screenshot, where every product will display the set amount of Loyalty Points you will earn on that specific purchase. E.G. 1 Aisu Blue Raspberry 50ml E-Liquid will return 160 Loyalty Points (Equivalent to £1.60 in Future Savings). These points are automatically added to your account once your order has been processed and shipped.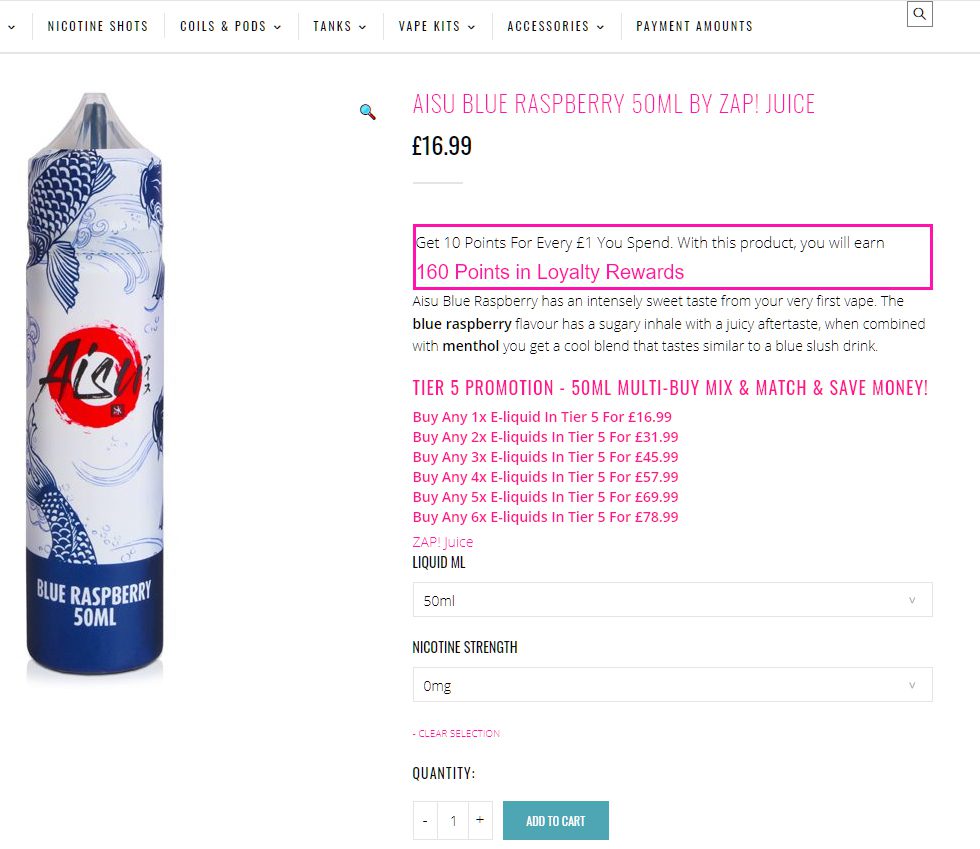 How to Earn loyalty Points on each Review
Verified Purchasers can leave a review on each product they have bought for 50 Loyalty Points per review. This can be done by going onto the 'Reviews' Tab on the product you have bought, and leaving a comment and star rating.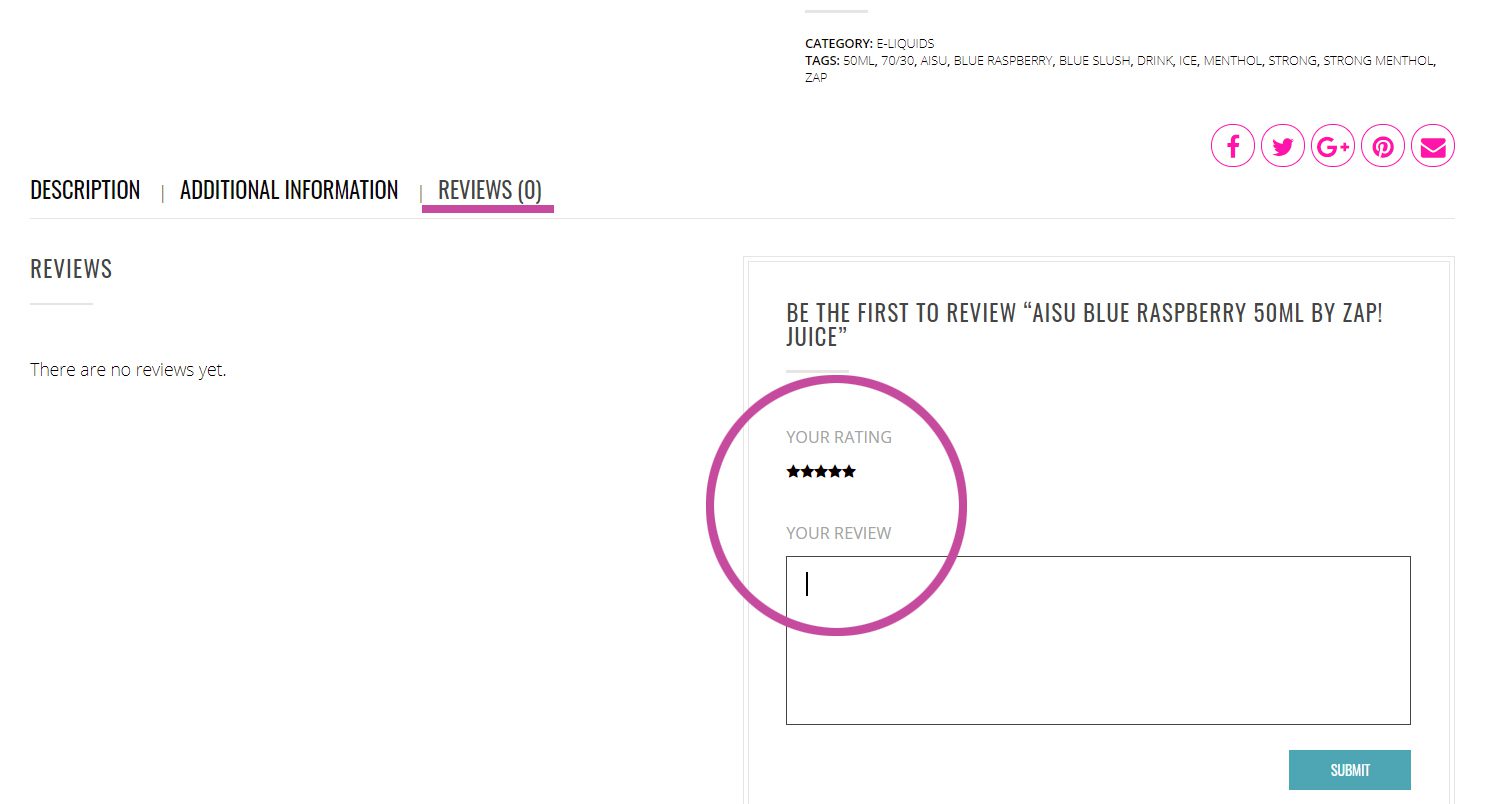 How to Earn Loyalty Points By Referring to your Friend
Our Referral system is both generous to the referrer and referred. Below this page, you'll find a section to invite your friends. You can either enter your friend's email address or generate a private referral link. By sharing the referral link, you can invite as many friends as you want. New customers who have been referred will automatically have a £7 Coupon placed in their account that they can use on their first order over £19.99. By referring a friend you will also receive a reward, earning 700 Loyalty Points, an equivalent of £7.

First time users that register an account with us, will automatically earn 100 Points on creation.
The reason we want you to register is so we can automatically allocate you points on each of your purchases, we are not interested in your personal details or using them, so if that is a worry then fear not! All we want to do is thank you for your continued support of our business and your loyalty to us by us giving back to you.
How To Spending Loyalty Points
Currently we have 2 Rewards that you can cash in on your Loyalty Points for, both are Fixed Priced Coupons, at £5 and £10 respectively. You can exchange 500 Loyalty Points for a £5 Coupon, while a £10 Coupon can be traded for 1000 Loyalty Points. These Coupons can be spent on any E-Liquid, Tank, Coils & Kits.
You can unlock these coupons, either below on this page or in the My Account section, this is simply done by clicking the 'Unlock' Button

Once you have selected your Vaping goods and added it to your cart, if you have a coupon that you have unlocked through our Loyalty Scheme it will be available to use on the Cart Page. You can also manually paste your Coupon Code in the Check Out section.
Refer To Friend
---
Refer your friend(s)
Please login if you wish to refer a friend
System name
Loyalty Rewards
Your Current Balance
0 Points
Action to perform
Earned Points
Get 10 Points For Every £1 You Spend
Get 50 Points For Each Review You Submit
50
Get 700 Points For Referring A Friend That Places An Order Over £20
700
Get 100 Points For Registering An Account With Us
100
Rewards details
Points cost
1000 Points – £10 OFF
1000
Loyalty System
Date
Description
Points