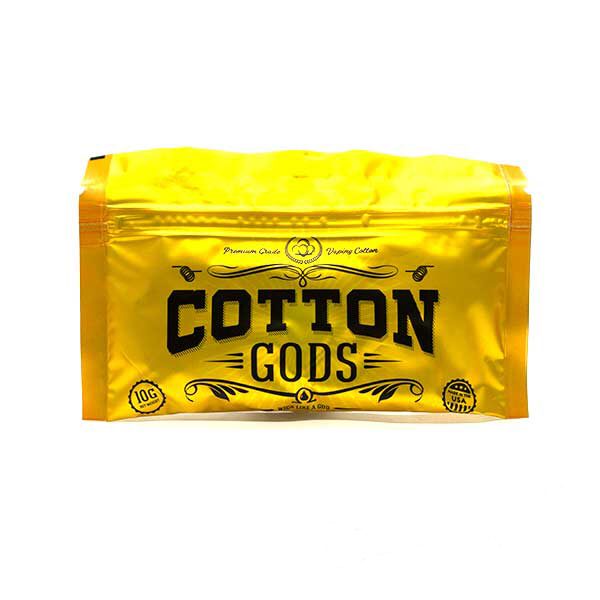 Cotton Gods Premium Vaping Cotton
£4.99
Get 10 Points For Every £1 You Spend. With this product, you will earn
40 Points
in Loyalty Rewards
Cotton Gods Premium Vaping Cotton – The Cotton Gods have spoken and have come up with an original 100% organic cotton that gives you the purest flavour for your E-Liquids.
Description
Cotton Gods Premium Vaping Cotton
Cotton Gods Premium delivers 100% organic cotton for your E-Liquids with a pure flavour. The cotton is naturally grown in America and is easy to wick with no dry hits. The cotton is designed to withstand high temperatures and has no break-in period. It's made by vapers for vapers.
Bring You Pure Flavor with their 100% Organic Cotton:
Cotton Gods brings you 100% organic cotton for pure E-liquid flavor. It's easy to wick and has no break-in period, thanks to naturally grown cotton from America. Designed to withstand high temperatures, Cotton Gods guarantees no dry hits. Made by the vaping gods for vapers.
Features:
Grown in America
Cleanest possible taste
100% organic cotton
Easy re-wicking
Thick and fluffy
No 'break in' period
No dry hits
Unbleached & Pesticide Free
Highly Absorbent
Easy to tear for use in atomizers.
Packaged in a resealable bag 
10g of Cotton
Experience Pure Flavor with Cotton Gods Premium Cotton:
Cotton Gods Premium cotton is available in pre-cut strips, which makes it easy to use and perfect for vapers who want to save time during their build process. The cotton is highly absorbent, allowing for quick and efficient wicking, while its heat-resistant properties prevent any dry hits. Cotton Gods is also free from pesticides and chemicals, ensuring a clean and pure vaping experience. Whether you're a beginner or an advanced vaper, Cotton Gods Premium cotton is a great choice for your rebuildable atomizers.
Now available for same day delivery, in the London area, with our very own dedicated courier service, if ordered before 4pm. For all other parts of the UK you can also order this for guaranteed next working day delivery if ordered by 4pm.
---
Only logged in customers who have purchased this product may leave a review.