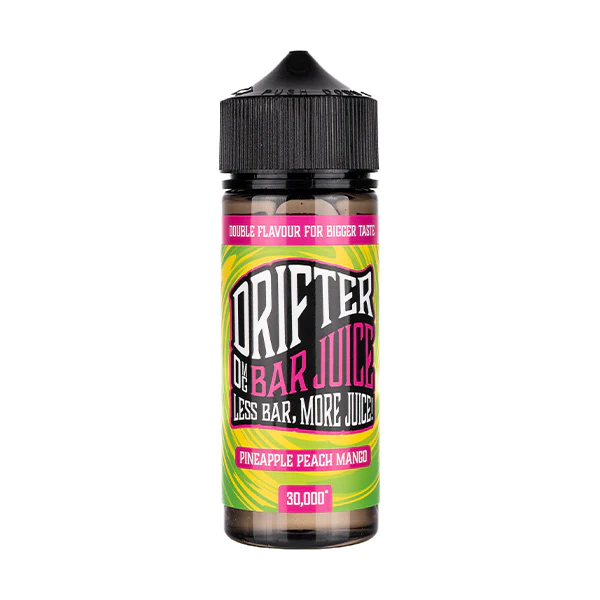 Drifter Bar Juice Pineapple Peach Mango 100ml E-Liquid
£12.99
Get 10 Points For Every £1 You Spend. With this product, you will earn
120 Points
in Loyalty Rewards
Drifter Bar Juice Pineapple Peach Mango: A tropical treasure, combining the lush flavours of pineapple, peach, and mango. Transport yourself to an island oasis with every puff
Drifter Bar Juice
Drifter Bar Juice 100ml E-Liquids
Mix & Match - 2 For £20
FREE NIC SHOTS INCLUDED
Description
Additional information
Reviews (0)
Description
Drifter Bar Juice Pineapple Peach Mango 100ml
A tropical treasure, combining the lush flavours of pineapple, peach, and mango. Transport yourself to an island oasis with every puff
The mix is 50% VG / 50% PG.
Introducing Drifter Bar Juice 100ml E-Liquids, an extraordinary UK-based product that elevates the vaping experience to new heights. Crafted with utmost precision and quality, these e-liquids cater to those who prefer low-powered Vape Starter Kits (Mouth to Lung) and Pod Vape Kits. Enjoy an impressive lifespan of up to 30,000 puffs without compromising flavour or quality.
Features of Drifter Bar Juice 100ml E-Liquids
Made in the UK: Proudly manufactured in the UK, Drifter Bar Juice ensures top-notch quality and adherence to industry standards.
Tailored for Low-Powered Devices: Specifically designed to work seamlessly with pod devices, starter kits, and low wattage devices.
Unique 50/50 VG/PG Ratio: This balanced blend ensures a smooth vaping experience while extending the lifespan to an incredible 30,000 puffs.
Includes Free Nic Shots: Each 120ml bottle comes with 100ml of flavour and includes 2 x 20mg Drifter Salt Nic Shots, providing the option to reach 120ml of liquid at an approximate strength of 3mg nicotine.
Diverse Flavour Profile: Inspired by popular disposable vapes, the Drifter Bar series offers an array of flavours ranging from fruity delights like Kiwi Passion Guava to refreshing menthols and soda blends.
Eco-Friendly Approach: On a mission to reduce disposable vape waste, Drifter Bar Juice ensures quality without compromising environmental concerns.
Impressive Value for Money: With 50 times the e-liquid volume of classic disposable devices, Drifter Bar Juice 100ml E-Liquids offer an unparalleled cost-effective solution.
While the Drifter 100ml E-Liquids comes with free Drifter Salt Nic Shots, customers seeking regular freebase nicotine shots or another brand of salt nicotine shots can purchase them separately, offering even more customisation to suit individual preferences.
Available as a 100ml E-Liquid (0mg Nicotine Strength), in a 120ml capacity short fill bottle, with room for two 10ml nicotine shots. When added this will create 120ml of 3mg e-liquid.
You can purchase nicotine shots from us here: https://www.shishavibe.com/product-category/nicotine-shots/
If you are looking for an innovative, quality, and sustainable vaping experience, Drifter Bar Juice 100ml E-Liquids are an ideal choice. With an astounding 30,000 puff lifespan and a unique 50/50 VG/PG mix, they offer both pleasure and longevity. The opportunity to choose different nicotine shots further enhances their appeal, making them a must-try for vaping enthusiasts.
Need this item today? Order before 4pm today and receive this the same day with our own dedicated courier service for the London area.  Or instead opt for next working day guaranteed UK delivery if you order before 4pm.
Additional information
| | |
| --- | --- |
| E-Liquid Bottle Size | 100ml |
| Nicotine Strength | 0mg |
| E-Liquid Type | 100ml Shortfill E-Liquids |
| E-Liquid Manufacturer | Drifter Bar Juice |
| Flavour Ranges | |
| VG/PG Ratio | 50VG/50PG |
---
Only logged in customers who have purchased this product may leave a review.