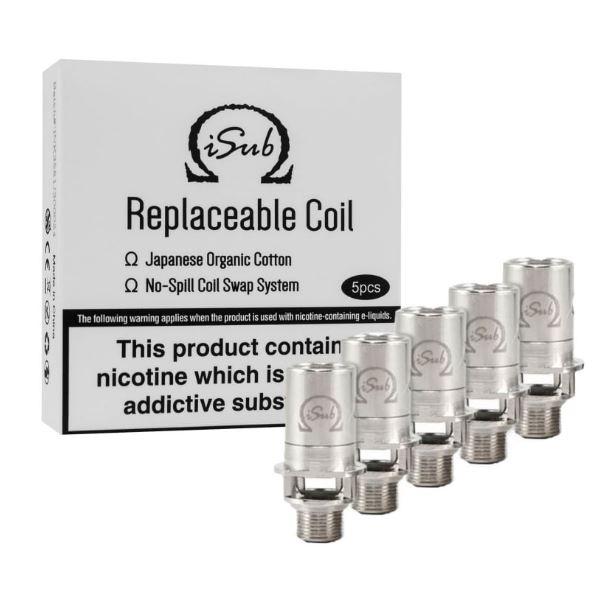 Innokin iSub Replacement Coils
£2.99 – £11.99
Get 10 Points For Every £1 You Spend. With this product, you will earn
20 Points – 110 Points
in Loyalty Rewards
The Innokin iSub vape coils are designed to be used with the iSub vape tank series, including the Innokin iSub vape tank and the Innokin iSub G vape tank. The high-quality vape coils feature Innokin's signature 'no spill coil swap system', meaning due to the iSub coil's built-in 510 pin, by simply unscrewing the base of your tank you can pull the coil straight out and replace it.
Innokin
Description
Additional information
Reviews (0)
Description
Innokin iSub Replacement Coils
These 100% genuine Innokin iSub vape coils – sourced directly from the manufacturer or its appointed UK distributor – are designed for use with this brand's iSub vape tank series, including the iSub vape tank and iSub G vape tank. 
They are high-quality coils available in various coil resistances to suit different styles of vaping, and which all incorporate Innokin's distinctive 'no spill coil swap' system. The latter means they feature a built-in 510 pin that allows the user to easily replace the coil by unscrewing the base of their tank and pulling the coil straight out. 
Features:
No Spill Coil Swap System
Built-In 510 Pin Connector
100% Organic Japanese Cotton Wick
Compatible With A Range Of E-liquids
0.2 Ohm / 0.5 Ohm / 1.0 Ohm / 1.2 Ohm / 2.0 Ohm Coil Resistanc
Whether your preference is for direct-to-lung (DTL) or mouth-to-lung (MTL) vaping, you're likely to find an iSub vape coil from our range that will suit; 0.2 ohm, 0.5 ohm, 1.0 ohm, 1.2 ohm and 2.0 ohm options are all available. The utilisation by these coils of 100% Japanese organic cotton also helps to improve flavour and shorten break-in time. 
If it's the 0.2 ohm or 0.5 ohm coil that you choose, a high VG e-liquid of 60% or above is recommended for such a sub-ohm coil. If, on the other hand, you go for the 1.0 ohm, 1.2 ohm or 2.0 ohm option, an e-liquid of at least 50% PG is advised. 
Contains:
5 x Innokin iSub Tank Replacement Vape Coils
Important information about Sub Ohm Vaping:
Any coil that registers below 1.0 Ohm, is known as a sub ohm coil. Recommended for advanced vapers only, they'll require more power to use properly, which will be provided by an advanced vape kit.
With these coils larger amounts of vapour will be created, to support this we recommend you use e-liquids that are 60% VG or higher. Due to the larger amounts of vapour that is created, we advise that you do not use an e-liquid that is higher than 6mg nicotine strength.
Now available for same day delivery, in the London area, with our very own dedicated courier service, if ordered before 3pm. For all other parts of the UK you can also order this for guaranteed next working day delivery if ordered by 4pm.
Additional information
| | |
| --- | --- |
| Number of Coils | 1 Coil, Pack of 5 |
| Coil Resistance | 0.2 Ohm, 0.5 Ohm, 1.0 Ohm, 1.2 Ohm, 2.0 Ohm |
| Hardware Manufacturer | Innokin |
| Coil Type | Mouth to Lung, Sub Ohm |
---
Only logged in customers who have purchased this product may leave a review.