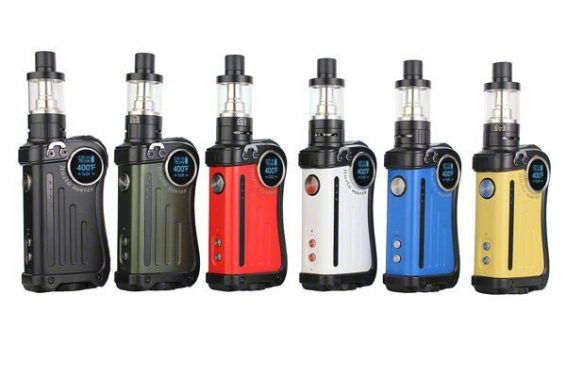 Innokin iTaste Hunter iSub V 75W TC Starter Kit
Check out this military style, iTaste Hunter iSub V Starter Kit from Innokin. With a pistol grip feel, a lanyard clip and a high-grip back strap, this eye catching starter kit is great for outdoor vaping. The iTaste Hunter kit comes with a 75 Watt mod and an iSub V sub-Ohm tank. The Hunter mod handles both variable wattage and temperature control vaping. This makes it the ideal partner for the kit's 3ml iSub V tank with stainless steel coils.
Compare
Product Description
Contents:
1 x Innokin iTaste Hunter 75W TC Mod
1 x iSub V 3ml Atomizer Tank
2 x iSub SS316L 0.5 Ohm Coil Heads
1 x Wide Bore 510 Delrin Drip-Tip
1 x Spare O Rings
1 x Innokin Vape Band
1 x User Manual
Note: This starter kit requires a separate 18650 battery and charger.
Innokin iTaste Hunter 75W TC Mod Features:
Size: 89mm x 50mm x 25mm
Connector: Sprung 510 screw with base airflow
Battery type: Single high output 18650 type (not supplied)
Switches between TC and VW modes
Output power: 6 to 75 Watts in 5 Watt increments
Temp. range: 150 to 315ºC in 5º increments
Max output current: 27.5 Amps
Max output voltage: 7.5 Volts
Min coil resistance: 0.1 Ohms
Ni TC coil resistance: 0.1 to 0.2 Ohms
Ti TC coil resistance: 0.1 to 0.5 Ohms
SS316L TC coil resistance: 0.2 to 1.0 Ohms
Press fire button 3 times for on/off safety switching
Circular OLED display screen
Military/outdoor styling
Handy lanyard attachment bar
Fire and up/down control buttons
New/Same coil prompt
Precise temperature control for a consistent vape
Dry hit detection & cut-out circuit
Built-in puff counter
Displays vape timer
Displays battery level
Adjustable pre-boost wattage ramp-up
Ultra-low power consumption on standby
Great looking mod with a rugged design
Superb, glitch-free temperature control
6 Case colour options: Desert, Red, Black, White, Blue & Green
iTaste Hunter 75W Mod Safety Features:
Cuts off automatically after 15 seconds firing
Low voltage warning & cut-off
Dry hit cut-out
Short circuit lock-out feature
Overheating circuit board warning & cut-off
Accidental battery reversal protection
Battery vent on screw down compartment cap
iSub V 3ml Atomizer Tank Features:
iSub Tank diameter: 22mm
E liquid capacity: 3ml
Tank case: Stainless Steel
Tank material: Toughened Pyrex glass
Drip-tip: Wide bore 510 type (Delrin)
Accepts any 510 drip-tip
Filling: Clean, top-fill access to e liquid tank
Airflow: Adjustable ring with 2 slots on tank base
Connector: Sprung pin (510 standard)
Comes with 2 x 0.5 Ohm SS316L VW / TC coil heads
Special, easy coil change system
Fast, simple strip-down for cleaning
Formidable flavour & cloud generation
Innokin iTaste Hunter Kit compatibility:
The iTaste Hunter mod will fire replaceable Kanthal and Stainless Steel coil heads rated up to 75 Watts in variable wattage mode. In temperature control mode, the mod will fire NI200, Titanium and Stainless Steel coils at temperatures up to 315ºC. Please follow the manufacturer's instructions carefully when switching between modes
Only logged in customers who have purchased this product may leave a review.