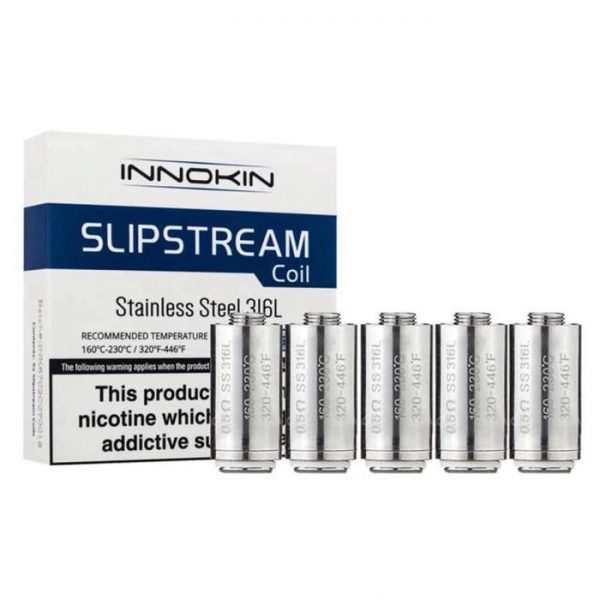 Innokin Slipstream Replacement Coils
£2.99 – £11.99
Get 10 Points For Every £1 You Spend. With this product, you will earn
20 Points – 110 Points
in Loyalty Rewards
Innokin Slipstream Replacement Coils, BVC (bottom vertical coils) allow inhaled air to pass down through the coil body, then up through the atomizer coil's central airflow channel. This advanced airflow system is designed to make the Slipstream tank virtually leak free.
Innokin
Description
Additional information
Reviews (0)
Description
Innokin Slipstream Replacement Coils
Trust Shisha Vibe to provide you with a five-pack of 100% genuine Innokin Slipstream Coils, obtained from the manufacturer or its appointed UK distributor – in other words, you won't be receiving a "clone" or fake. These replacement coils can be used with the Slipstream atomizer tank, which is the tank included with Innokin's Kroma and Pebble mid-power vaping starter kits. 
These are bottom vertical coils (BVC) that allow the passage of inhaled air down through the coil body, then up through the central airflow channel of the atomizer coil. Such a sophisticated airflow system helps to virtually eliminate any leakage from the Slipstream tank. 
Choose between two types of coil wire for your Slipstream coil 
The 0.8 ohm Kanthal coil in this range is the one that Slipstream atomizer tanks are normally delivered with, preinstalled. It's an excellent general-purpose coil for vaping right through the day, and gives pleasing flavour when fired at a wattage setting of between 20 and 35 watts. Please note, however, that you cannot use a Kanthal wire atomizer coil in temperature control mode. 
Alternatively, you might consider the 0.5 ohm stainless steel variant of this coil when you desire especially impressive flavour. You can also count on it to generate serious clouds, particularly when the Slipstream tank has been adjusted for wide airflow. Stainless steel Slipstream coils are rated for firing between 2 and 30 watts, and are also suitable for temperature-controlled vaping. 
Contents:
5 x Innokin Slipstream Replacement Coils
Features:
Replaceable BVC atomizer coil 0.8Ω Kanthal or 0.5Ω Stainless Steel
0.8Ω Kanthal coil rated at 20 to 35 Watts (VW only)
0.5Ω 316L Stainless Steel coil rated at 20 to 35 Watts (VW or TC modes)
For use with Innokin's Slipstream atomizer tank
Dual wall coil design for Slipstream top airflow system
Makes tank virtually leak-free
Well-padded with organic cotton
Long, wide ports for improved wicking
100% Genuine Innokin Slipstream replaceable coil
This product is available for same day courier service within the London area, if ordered by 3pm. Or alternatively you can have it sent out for guaranteed next working day delivery in the UK.
Additional information
| | |
| --- | --- |
| Number of Coils | 1 Coil, Pack of 5 |
| Coil Resistance | 0.5 ohms, 0.8 ohms |
| Hardware Manufacturer | |
| Coil Type | |
---
Only logged in customers who have purchased this product may leave a review.