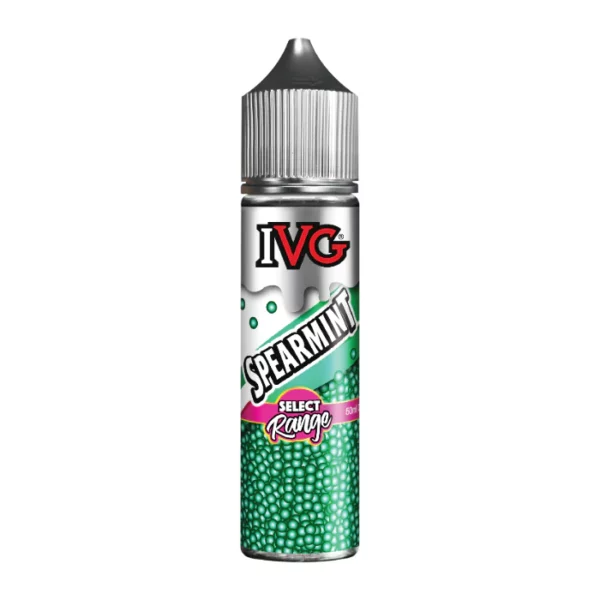 IVG Spearmint 50ml E-Liquid By IVG Sweets
£14.99
Get 10 Points For Every £1 You Spend. With this product, you will earn
140 Points
in Loyalty Rewards
IVG Spearmint 50ml E-Liquid is a sweet shop blend with a cooling kick. The spearmint taste, featuring peppery and floral notes, is paired with a sweet candy layer for a refined vape.
I Love VG eLiquid
Mix & Match Any Selected Tier 4 50ml E-Liquids
2 For £28
3 For £40
4 For £48
5 For £55

Description
Additional information
Reviews (0)
Description
IVG Spearmint 50ml E-Liquid
IVG Spearmint (Formally known as Spearmint Millions) 50ml E-Liquid offers a tantalizing sweet shop blend. It delivers a cooling kick of spearmint flavor. This high-quality e-liquid has been masterfully blended with the perfect ratio of ingredients to create a delicious, refreshing, and unique vaping experience. The sweet flavor notes combine with the cool and crisp spearmint undertones. They create a perfect balance of taste that is both smooth and satisfying. Whether you're a fan of sweet or minty flavors, this e-liquid is sure to leave you feeling refreshed and delighted after every puff.
70%/30% 
It is a nicotine-free option. Delivered as 50ml of e-liquid in a 60ml shortfill bottle, which means you can add a 10ml nicotine shot of your preference. This allows for a customizable vaping experience, as adding an 18mg, 10ml nic shot will create a 60ml 3mg e-liquid blend. With this flexibility, you can control your vaping experience to best suit your needs.
You can purchase nicotine shots from us here: https://www.shishavibe.com/product-category/nicotine-shots/
Need this item today? Order before 3pm today and receive this the same day with our own dedicated courier service for the London area.  Or instead opt for next working day guaranteed UK delivery if you order before 4pm.
Additional information
| | |
| --- | --- |
| E-Liquid Bottle Size | 50ml |
| Nicotine Strength | 0mg |
| Price Plan | Tier 4 |
| E-Liquid Manufacturer | I Love VG |
| E-Liquid Type | 50ml Shortfill E-Liquids |
| Flavour Ranges | |
| VG/PG Ratio | 70VG/30PG |
---
Only logged in customers who have purchased this product may leave a review.