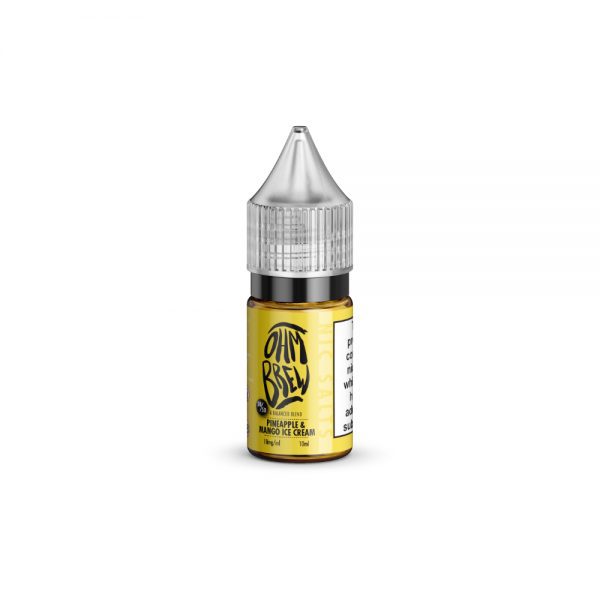 Pineapple And Mango Ice Cream 10ml E-Liquid By Ohm Brew 50/50 Nic Salts
£5.99
Get 10 Points For Every £1 You Spend. With this product, you will earn
50 Points
in Loyalty Rewards
Ohm Brew Pineapple And Mango Ice Cream is an exotic blend of fruits with a cool finish. The pineapple flavour on inhale has an overall juicy taste that's enhanced by a sweet mango. The ice cream exhale gives this mix a cool and smooth finish.
Ohm Brew
Description
Additional information
Reviews (0)
Description
Ohm Brew Pineapple And Mango Ice Cream 10ml
The Ohm Brew range of e-liquids has no shortage of fans, among both our customers and our own team members here at Shisha Vibe. Supplied in 10ml bottles, these e-juices come in an assortment of dessert, menthol, tobacco and fruit flavour blends, and you can shop for your favourites with us now.
Ohm Brew e-liquids are known for their 50% VG blends that lend themselves well to use in starter kits and plus ohm devices. Meanwhile, the presence of salt nicotine in these e-juices ensures a smoother throat hit with zero reduction in nicotine strength.
This Pineapple and Mango Ice Cream e-liquid is just one of the many fine options that Ohm Brew presents – and like the rest of the e-juices we offer from this brand, we obtain it from the manufacturer itself or its appointed UK distributor. This allows us – and you – to be sure of these e-juices' authenticity.
We love the exotic blend of fruits that this e-liquid flavour consists of, to say nothing of the cool finish. On inhale, you will experience the pineapple flavour enhanced by sweet mango, while on the exhale, it'll be the ice cream you're put in mind of; expect a cool and smooth finish.
Don't forget, too, that if you are in London and order before 3pm today, you will be able to take advantage of our same-day courier service. Alternatively, you might prefer guaranteed next working day delivery to a UK address, this option being available if you buy before 4pm.
Additional information
| | |
| --- | --- |
| Liquid ML | 10ml |
| Nicotine Strength | 3mg, 6mg, 12mg, 18mg |
| E-Liquid Manufacturer | |
| Flavour Ranges | |
| E-Liquid Type | |
| Price Plan | |
| VG/PG Ratio | |
| 10ml Nicotine Strength | |
---
Only logged in customers who have purchased this product may leave a review.