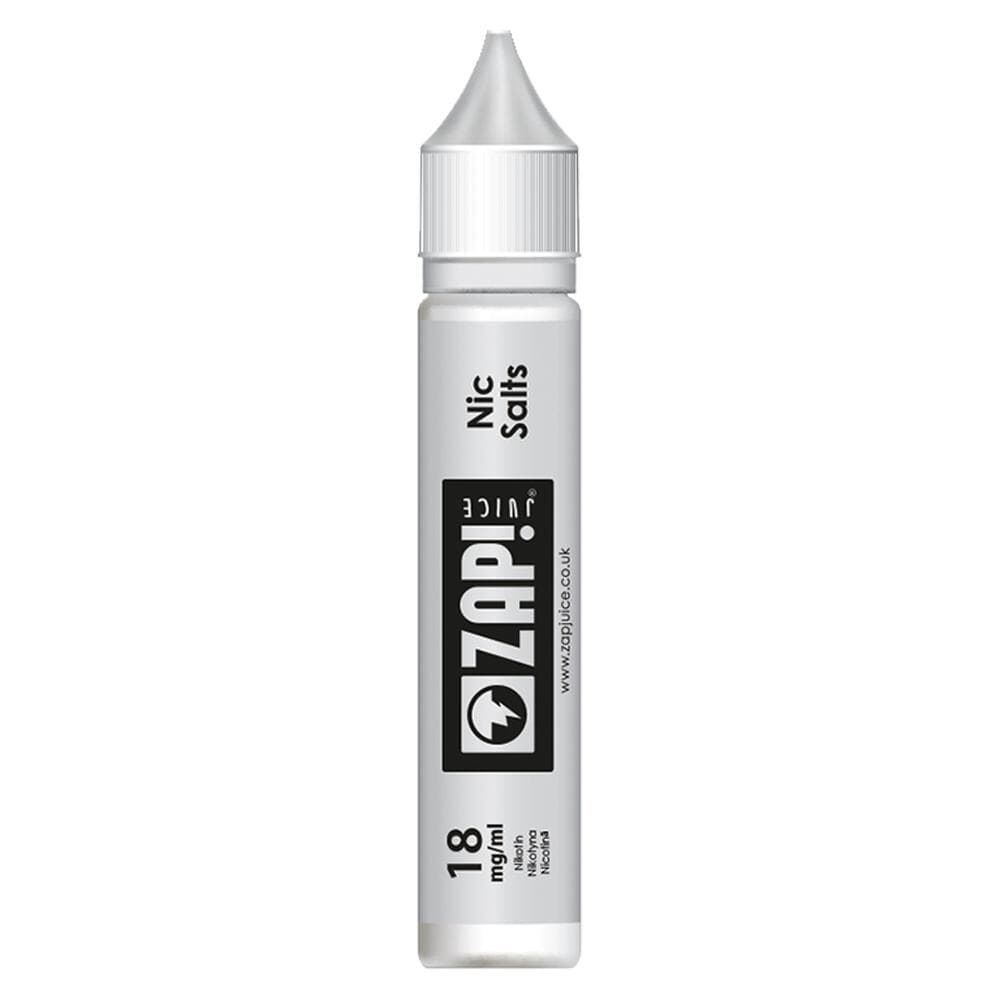 70VG SALT NIC SHOT BY ZAP! 10ml
£0.99
Salt Nic Shot by Zap! Juice should not to be vaped on its own; it is a salt nicotine booster shot, designed for use with shortfill eliquids.
ZAP! Juice
Description
Additional information
Reviews (5)
Description
70VG SALT NIC SHOT BY ZAP! 10ml
This Salt Nic Shot from the ZAP! Juice brand is not designed to be vaped on its own; it is a salt nicotine booster shot that has been formulated for mixing with shortfill e-juices.
We stock various products from ZAP! Juice at Shisha Vibe, and we take great care to only obtain them from the manufacturer itself or the appointed UK distributor. This allows us to be sure that we are only supplying you with authentic e-liquids you can expect to provide the best possible experience.
Key Features of ZAP! Juice Nicotine Salts Shot
Nicotine Salts nicotine shot by ZAP! Juice
18mg nicotine
10ml
70VG
Mix with 50ml of nicotine-free e-liquid to create 60ml of 3mg nicotine e-liquid 
About ZAP! Juice Nic Salts Shot E-Liquid:
This nicotine salts shot from ZAP! Juice is just the thing for boosting your favourite shortfill e-liquids. Nicotine salts, by the way, are sourced from the salt contained in the tobacco leaf, and are ideal if you desire a swifter and smoother rush than standard nicotine.
The nicotine strength of this nic salt shot is 18mg, and it's a great choice for use with a ZAP! Juice shortfill. All that you have to do is pour the nicotine shot into the shortfill bottle, before thoroughly mixing it. And there you have it – a solution that is ready to vape!
Please Note: Nicotine shots are sold only as add-ons to other vape products, not as standalone items. Orders of nicotine shots without accompanying vape products will be cancelled and refunded.
What's even more exciting is that we give you the option of a same-day courier service if you are in the London area and place your order by 3pm. Another popular delivery option from us is guaranteed next working-day delivery, which is available to buyers with a UK address, provided that they confirm their purchase before 4pm.
Additional information
| | |
| --- | --- |
| E-Liquid Manufacturer | ZAP! Juice |
| E-Liquid Type | Nicotine Booster Shots |
| VG/PG Ratio | 70VG/30PG |
| Nicotine Shot Type | Salt Shots, 70VG/30PG |
---
Only logged in customers who have purchased this product may leave a review.