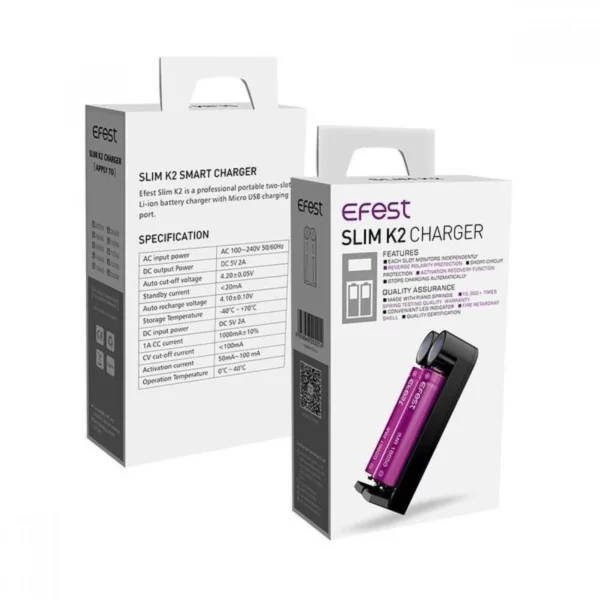 Efest Slim K2 Dual Bay USB Battery Charger
£9.99
Get 10 Points For Every £1 You Spend. With this product, you will earn
90 Points
in Loyalty Rewards
Description
Efest Slim K2 Battery Charger
The Efest K2 Slim charger is a no frills lightweight micro-USB powered li-ion charger. The K2 charges two batteries at up to 1A each depending on the power supplied to the charger. A white LED indicates the battery is charging while a blue LED indicates a finished charge.
Compatible with: 10440, 14500, 14650, 16340, 16650, 17650, 17670, 18350, 18490, 18500, 18650, 20700, 21700, 26500, 26650
Please Note: No batteries are include with this charger. Batteries can be purchased separately here:
Kit Contents:
Contents:
• 1 x EFEST Slim K2 Battery Charger
• 1 x USB Cable
Features:
• Portable Design with Quality Piano Strings
• Battery Life LED Indicator Light
• Dual Slot 5V/1A Micro USB Charger
• AC Input Power: AC 100~240V 50/60Hz
• DC Output Power: DC 5V 1A
• DC Input Power: DC 5V 1A
• 1A CC Current: 1000mA (+/-10%)
• Auto Cut-Off Voltage: 4.20 (+/-0.05V)
• CV Cut-Off Current: <100mA
• Standby Current: <20mA
• Activation Current: 50mA~100mA
• Auto Recharge Voltage: 4.10 (+/-0.10V)
• Operation Temperature: 0C ~ 40C
• Storage Temperature: -40C ~ 70C
Compatibility:
Compatible with 18650 vaping mod batteries. Also Compatible with 10440/14500/14650/16340/17335/17500/17670/18350/18490/18500/18650/18700/20700/21700/22650/25500/26650 3.6V/3.7V Li-ion batteries
Place your order today before 4pm, and you can take advantage of our same-day courier service if you are in the London area. Alternatively, guaranteed next working day delivery is available in the UK, provided that you order by 4pm
---
Only logged in customers who have purchased this product may leave a review.