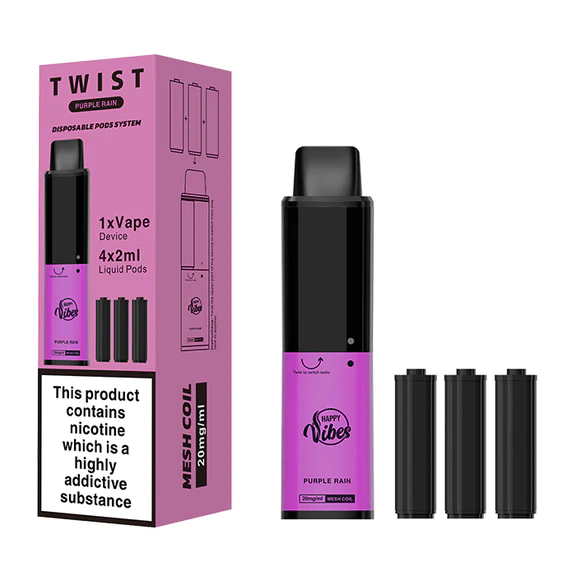 Happy Vibes Twist Purple Rain 2400 Disposable Vape
£11.99
Happy Vibes Twist Purple Rain 2400 Disposable Vape – Plunge into the sumptuous blend of dark berries and grape, providing a sublime and mysterious experience unlike any other.
Mix & Match Happy Vibes Disposable Vapes
2 For £22
3 For £30
Description
Additional information
Reviews (0)
Description
Happy Vibes Twist Purple Rain 2400 Disposable Vape
Plunge into the sumptuous blend of dark berries and grape, providing a sublime and mysterious experience unlike any other.
Introducing the Happy Vibes Twist 2400, an innovative disposable vape device that revolutionises your vaping adventures. With its cutting-edge architecture, remarkable array of flavours, and easy-to-use operation, it's a transformative option for mobile vapers or anyone seeking an efficient and powerful vaping solution.
Mix & Match All Happy Vibes Twist 2400 Disposables – 2 for £22 / 3 for £30
Engineered for the contemporary vaping enthusiast, the Happy Vibes Twist 2400 comes outfitted with a potent pre-charged 1300mAh battery, ensuring long-lasting power until all four e-liquid chambers are completely empty.
The design of the device is distinctively split into two segments: the bottom half contains the battery, while the top half features 4 separate 2ml tanks, each incorporating a mesh coil. These reservoirs are filled with top-notch nicotine salt e-liquid at a 20mg concentration, delivering an MTL (Mouth-To-Lung) vaping experience that's both sumptuous and gratifying.
With the Twist 2400, economy meets performance. The device is created to yield up to 2400 puffs, offering longevity that's up to quadruple that of a standard disposable vape. Furthermore, the device meets all TPD & MHRA guidelines for safety and quality.
Happy Vibes Twist 2400 Key Features:
Robust Battery Life: Comes with a pre-charged 1300mAh battery for extended vaping escapades.

Maximum Puffs: Furnishes up to 2400 puffs for each device.

Four-Chamber Tank System: Equipped with 4 x 2ml e-liquid reservoirs, each containing a mesh coil.

Quick Pod Switch: Conveniently change between different e-liquid chambers by twisting the top portion.

Optimised for MTL: Tailored for a fulfilling Mouth-To-Lung vaping session.

Nicotine Content: Pre-loaded with 20mg nicotine salt e-liquid for a more velvety inhalation.

Hands-Free Activation: Auto-draw feature means no need for buttons or intricate settings.

Complies with TPD & MHRA: Meets all relevant safety and quality standards.
The Happy Vibes Twist 2400 isn't just handy; it also guarantees a lush and satisfying vaping experience. Perfect for enduring vaping sessions or as your travel buddy, this device ensures ongoing pleasure with a mere twist. Enhance your vaping journey today with this state-of-the-art device.
At Shishavibe, we strive to provide the best customer service possible, which is why we offer multiple delivery options for your convenience. If you're located in the London area and need your Happy Vibes Disposable Vape as soon as possible, take advantage of our same-day courier service. Simply place your order by 4pm and our dedicated courier will ensure it arrives at your door the same day.
Additional information
| | |
| --- | --- |
| Hardware Manufacturer | Happy Vibes |
| 10ml Nicotine Strength | 20mg |
| Vape Kit Type | Disposable Bars |
| Flavour Ranges | |
| Disposables Brand | Happy Vibes |
---
Only logged in customers who have purchased this product may leave a review.