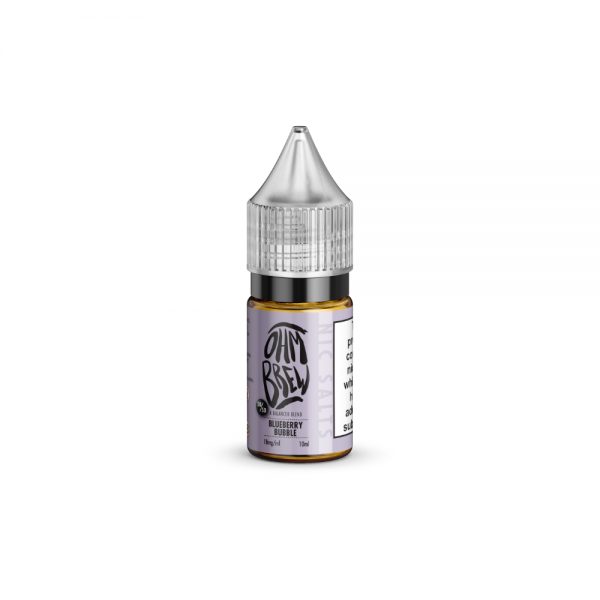 Blueberry Bubble 10ml E-Liquid By Ohm Brew 50/50 Nic Salts
£5.99
Get 10 Points For Every £1 You Spend. With this product, you will earn
50 Points
in Loyalty Rewards
Ohm Brew Blueberry Bubble is a candy store blend with a fruity twist. From your first inhale a bubblegum flavour with hints of strawberry and banana, combined with a juicy blueberry for a ripe exhale.
Ohm Brew
10ml Multi-Buy Mix & Match On Selected 10ml E-Liquids
3 For £11
4 For £14
5 For £17
6 For £20
9 For £30
10 For £33
20 For £65
Description
Additional information
Reviews (4)
Description
Ohm Brew Blueberry Bubble 10ml
This Blueberry Bubble e-juice from Ohm Brew is as satisfying as its name suggests. It's a blend reminiscent of the offerings of a candy store, complete with a fruity twist. The first inhale makes evident a bubblegum flavour with a semblance of strawberry and banana, while a juicy blueberry flavour makes itself felt for the ripe exhale.
This is just one of the many Ohm Brew e-liquids we're proud to offer here at Shisha Vibe; we're committed to only stocking genuine e-juices, which is why we source these directly from the relevant UK distributor or the manufacturer itself.
Ohm Brew e-liquids are highly rated among vaping enthusiasts for quite a few reasons. Their 50% VG blends make them a fine match for starter kits and plus ohm devices, while their use of salt nicotine gives a smooth throat hit, but no reduction in nicotine strength.
Remember, too, that when you place your order by 3pm, you have the option of our same-day courier service if you are based in London. But don't worry – guaranteed next working day delivery to a UK address is also available to everyone who purchases before 4pm.
Additional information
| | |
| --- | --- |
| Liquid ML | 10ml |
| Nicotine Strength | 3mg, 6mg, 12mg, 18mg |
| E-Liquid Manufacturer | Ohm Brew |
| Flavour Ranges | |
| Price Plan | 10ml – 6 For £20 |
| VG/PG Ratio | 50VG/50PG |
| 10ml Nicotine Strength | 3mg, 6mg, 12mg, 18mg |
---
Only logged in customers who have purchased this product may leave a review.